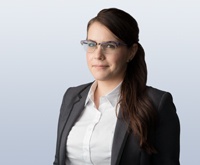 161 North Clark Street
Suite 2700
Chicago, IL 60601-3242
T 312 261 2279
T: 312 261 2279
| F 312 261 1279
Practice areas
Education
University of Colorado Law School, 2010, J.D.
Colorado State University, 2006, B.A.
Professionals

Jennifer S. Marski
Jennifer S. Marski
– Associate
Associate
Jennifer Marski is a member of the firm's Litigation and Dispute Resolution Practice Group. She focuses her practice on commercial litigation and class action defense, including multi-district litigation, other federal civil litigation, and state-level civil litigation.
Jennifer has significant experience involving internal and governmental investigations. She also has experience with residential mortgage and mortgage-backed securities compliance and litigation.
Community/Civic Activities
Domestic Violence Legal Clinic, Volunteer Attorney
WITS Reading Mentor