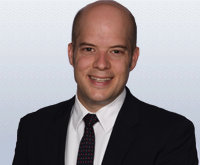 161 North Clark Street
Suite 2700
Chicago, IL 60601-3242
T 312 261 2276
T: 312 261 2276
| F 312 261 1276
Education
DePaul University College of Law, 2012, J.D.
DePaul University School of Music, 2004 B.S.
Professionals

Christopher R. Claybough
Christopher R. Claybough
– Associate
Associate
As an Associate in Pedersen & Houpt's Litigation and Dispute Resolution Practice Group, Chris focuses his practice on a diverse range of commercial litigation matters covering a wide variety of doctrinal law, including: breach of contract, corporate fraud, indemnification, personal guarantees, and procedural elements including motion practice and discovery.
Prior to joining Pedersen & Houpt, Chris served as a Judicial Law Clerk to two judges in the Law Division of the Circuit Court of Cook County. During his tenure as a Clerk, Chris gained significant experience interpreting complex commercial agreements including asset acquisitions, C level employment agreements and entity governance documentation. Additionally, Chris's responsibilities exposed him to the realm of litigation practice, which included assisting the judges by drafting over 400 proposed written rulings on substantive and procedural matters concerning challenges to pleadings, motions for summary judgment and motions to reconsider.
Before becoming an attorney, Chris developed strong business acumen by serving a variety of entities, including an internationally acclaimed theatrical company, and an entrepreneurial office with telecommunications and franchise holdings. This practical experience enables Chris to quickly understand the distinct needs of business clients, and develop effective solutions to complex and challenging issues.
Professional Affiliations